Novo Modular Furniture India Private Limited Plot no. 22, 6-8-97 I.D.A Kattedan Hyderabad, proudly announce their entry into the world of Modular Furniture Systems. Having bought over GVK Group's Novopan Patancheru, Furniture Unit, our offerings encompass a complete range of innovative modular furniture. Manufactured to exacting standards our top of the line range has both furniture of our own design and/ or custom built to consumer preference. Our range covers Doors, Wardrobes, Walk-In/Regular, Complete Kitchen Cabinetry, Desks/Table's including nesting units, Work stations, Partition Systems, Shelving both stand alone and wall fixable, Screens/ Dividers, Cubicles, Counters, Kiosks and Display Stands. Stylish, Light and Strong, making life easy,is what our products, are all about. Novo modular furniture sought the best technology and collaborated with M/S Gesika GmbH & Co of W.Germany. Our Novo Plant is completely equipped with machines imported from Coimal,Italy.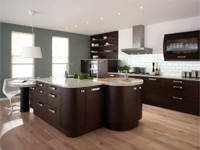 Flexible Modular Systems produced to customized requirements and our own design, matching the preferences of the who's who of the country's Architecture & Design community.
Our reconfigurable systems for workstations & cubicles in interesting profiles, cut out monotony & "built-in" harmony & flexibility to change as your Organisation changes & evolves.